Jun 6th, 2016
Author:
donich_admin
I don't like mowing the lawn here. There are two reasons for that (well three if you count the midgies). Firstly I have to say I'm just not that keen on mowing the lawn (never have been), but secondly, it seems like a crime here because of the hundreds of wild flowers that are being mowed away. It probably shows what bad condition the lawn is, but we have everything from the traditional buttercups and daisies, to foxgloves and wild orchids.
Having said this, as quickly as the grass grows, the flowers come back too. There's also lots of our garden where we just leave the long grass to flourish, and that is a veritable haven for wildlife. Just as I was putting the lawnmower away yesterday (it is a powerful, heavy petrol mower which it needs to be to cover the lawns we have here), a small brown toad about the size of a 50p piece tried to hide underneath it and had to be gently rescued away into the long grass where it waddled away (for anyone who doesn't know – the way you can tell the difference between frogs and toads is that frogs hop but toads walk).
Here are some of the flowers in the garden at the moment.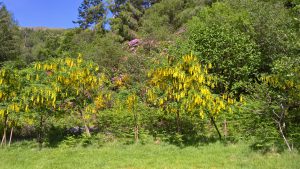 Laburnums in full flower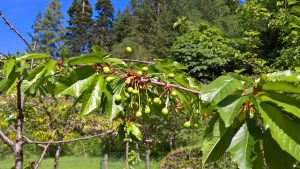 Cherries starting to form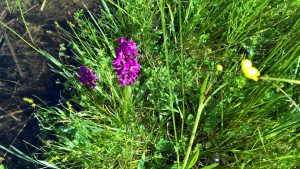 Wild orchid near the pond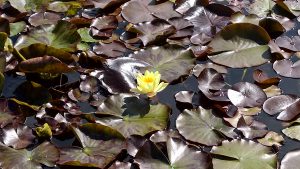 Water Lilies coming out of bud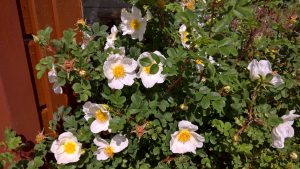 Wild rose bush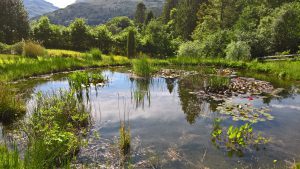 Our pond
This is all well and good but it is really too hot here at the moment and I could really do with an afternoon of genuine Argyll rain (don't tell the tourists I said that though).