May 20th, 2016
Author:
donich_admin
This was our last full day in NI, and again the weather was a bit changeable.  I was struck again as we pootled back towards Enniskillen what a beautiful, green and unspoiled area this really is.  Myself, I prefer the ruggedness of Argyll, but this place definitely has its charms too (and I must say – addicted as I am to looking in Estate Agents' windows, the property prices here are very very cheap).
We stopped at Knockninny on the far side of the Lough, with the idea being to take a walk to see St Ninian's well, a ruined castle and then have lunch at the hotel.  The first two were stymied when we discovered that a giant (I mean giant!) quarry had been built into the side of the hill we had been going to walk up.  If the interesting sites were still there, we couldn't find the way to them, so we went for a walk down a rather agreeable road and looked at some nice baby farm animals.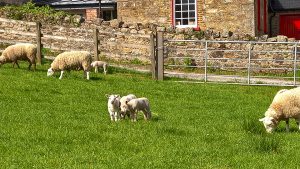 As a slight digression – the lambs and calves (and indeed their parents) seemed to be full of the joys of spring, which is one of the main reasons I could never really be a full on vegetarian or (more so) vegan.  I can't help thinking that when well treated and humanely killed, at least a cow or sheep has some kind of life for the time allotted, and personally I would rather have what ever time that was in a green field in NI rather than never existing at all.  Also I have a personal preference for animals in fields over soya beans and more people in the world…
We walked back to the boat and waited for nearly an hour until the hotel was due to be open for lunch.  By this time there was little food left on the boat, particularly as I had fed most of what was left of the bread to swans that morning.  When we got to the hotel, however, we discovered that it only opened in the evenings in May.
So we went back to Enniskillen, visited the supermarket and didn't get to go to Cafe Merlot that night either as they had a function on.  I discovered from N the next day that we could have gone to White Island but he hadn't wanted it to because it was raining…
The picture is the Knockninny Country House and Marina which I might have been able to recommend more highly if it had been open.