May 17th, 2016
Author:
donich_admin
We woke up to discover that against all expectations, the forecast was correct and it was now grey and drizzling.  We walked over to see the famous pottery and on our way we made a short detour to cross the international border into the Republic of Ireland.  Apparently by intention, there was no indication that it was there – the only give away was that the road signs were suddenly in km per hour.  It must be very confusing living just to one side or the other and constantly having to switch between Sterling and Euros.
The pottery tour was interesting – particularly watching the traditional craftsmanship going into making the traditional baskets and flowers.  Some of the old photos were illuminating – in 1890s all the people in the workshop were men, but now at least 80% of the people doing the fine work were women.  I bought a nice vase for me and some dinner plates for N's birthday – now all I have to do is find a place for the vase where the cats can't get it.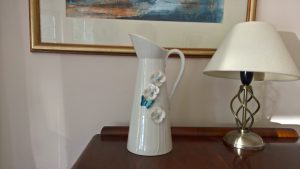 We had just a bit of bother getting the boat turned round to leave the mooring.  It took several attempts and we may just have bumped it a few times – partially because it was a tight turn, partially because of the poor visibility, and partially due to over-enthusiasm by the Captain.
By the time we arrived at Devenish Island (Gaelic – Island of the Ox), the weather had improved a lot and we had a walk to see the remains of the monastery founded by St Molaise.  I was disappointed not to be able to climb the tower as it was locked – doubtless another stupid health and safety regulation.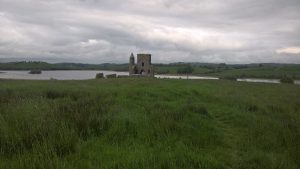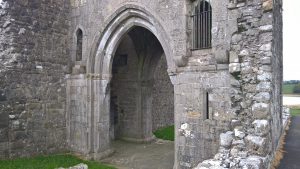 Then we headed back to Enniskillen – we'd hoped to eat at Cafe Merlot but we got a bit carried away playing D&D and left it too late.  So we had dinner at the Linen Room which looked nice and had cheap drinks but rather indifferent food (tinned peas and about six chips with my steak).