May 16th, 2016
Author:
donich_admin
Anyway, we were fixed again by 10am the next day (with no real explanation for what had happened though) and set off  to catch up with where we should have reached the following day.  It was now Monday and the Lough was even emptier than at the weekend.  Against the forecast, the weather was still great.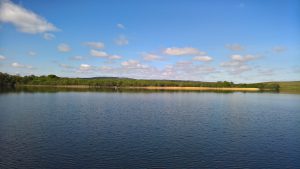 Northern Ireland is not very hilly but we managed to find one hill with a great view of the Lough.  N and J did not tackle the climb very well (they do not take enough exercise) so by the time they got to the top we had been there for 15 minutes and had begun to think they had given up.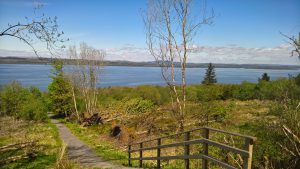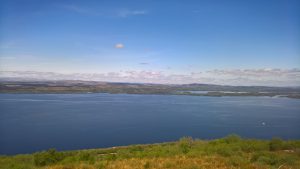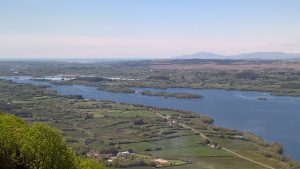 In the afternoon, we pootled over to Lusty Beg Island.  R was all for sitting on the boat in the sun with a drink, but N wanted to see some interesting Celtic stones which were on Boa Island.  All four of us set off with N informing us it was 'just over a mile'.  After we had been walking for half an hour, R checked the map, to discover that this estimate was more than a little optimistic, and it was more like three miles each way.  At this point, R returned to his original plan and went back to the boat for a beer and a sleep – the rest of us went on and found the stones were well worth seeing, set in a tiny picturesque country graveyard.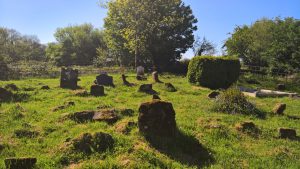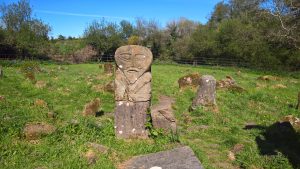 We then had all the way back to walk, by which time my feet were very sore in the new deck shoes I would not have worn if I had known we were in for a long trek.
Finally, we set off for Belleek (home of the world famous pottery).  We had another great meal at the eclectic "Black Cat Cove" and fell into exhausted sleep back at our mooring.