May 13th, 2016
Author:
donich_admin
We set off today to go cruising round Lough Erne in Northern Ireland for a week.  Of course with the weather having been beautiful last week – we are expecting it will pour down all the time we are away.  In the confined quarters of the boat I can't help imagining it will be like the Father Ted episode when they ended up playing ludo in the caravan.  But we will see…
The ferry crossing was quite fun although I would not recommend the coffee – someone should tell Stena that 'Barista' does not involve pushing a button on a machine.  The views over to Belfast were nice.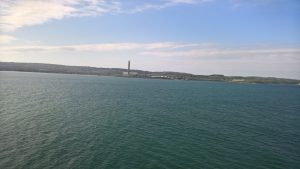 We arrived in Enniskillen later in the day and went for a pooter about.  Everything was lovely and peaceful, and it was quite unlike what the name unfortunately still conjures up for people of my generation.  Hopefully in time the memories of the troubles will all fade.
The town is on an island and has a nice castle which we will be seeing later in the week.  Also a good fountain.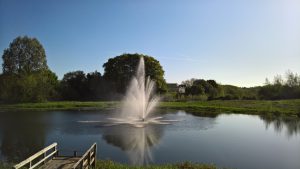 We saw the sister boat to the one we would be picking up the next day – the "Noble Commander"
Then we had a decent dinner in the Enniskillen hotel, though I am not sure what the poet Oscar would have made of his name being associated with a "Wilde Burger".