Apr 29th, 2016
Author:
donich_admin
With a vengeance….  Yesterday my ASDA order had to be cancelled as there was snow on the Rest, and our road got blocked by cars getting stuck on it.  Doubtless this would be tourists in what R calls "summer cars" but actually I hardly blame them – it can't be too great to be heading for your holiday cottage in time for the first week in May to find the road blocked by snow.
So all yesterday afternoon it was snowing heavily and almost lying – a couple of degrees colder and we would have had a thick covering – even here at near loch level.   Today the mountains are white down to about 200m, and this evening the sun has come out and everything is very scenic and alp-like.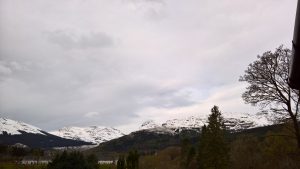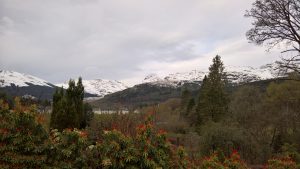 Luckily it is not as cold as it was when we got the late snow this time last year – so I am hoping big time that it has not killed all the blossom on my plum tree – last year I only got about four plums off it.