Apr 2nd, 2016
Author:
donich_admin
R and I tackled Beinn Bhuidhe today. This is another one of these (to an English speaker) strange Gaelic spellings, and is pronounced very approximately "Vu-Yid". It means 'Yellow Mountain'.
This is probably the least climbed of the local Munros as it is a long way from any of the others, which means that if you are a serious bagger – it is the only one you will get in a day. It is also a long (though lovely) walk down a private road in a glen to get there – the four miles feels fine on the way out and less great on the way back.
The weather today had been forecast to have cloud at 200m during the afternoon, so we set off early and were on the glen road at 8:30am.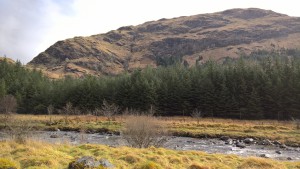 We could see a new and very steep track built by a hydro scheme running up the hillside, but decided to take the traditional route up the side of a waterfall. This was very steep and scrambly in places, with a couple of what are referred to as 'granny stoppers'. I'm not a politically correct animal, but I do not like this phrase, and I can say on behalf of older women that I am old enough to be a granny and I had no trouble. 'Newbie stoppers' would be a better phrase.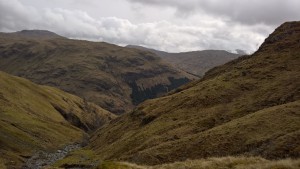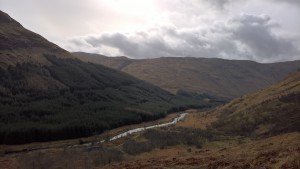 We came out onto a big bealach with a fair bit of snow. Probably sensibly, R wouldn't walk over it as there were a lot of hidden streams. We then went up a very steep and rough path (actually more a stream bottom than a path) to about 900m, and then turned left over a short ridge, with one final push up to the snow covered summit. The views were great – Ben Lui was covered with snow from about 400m, so as well we didn't try that one today.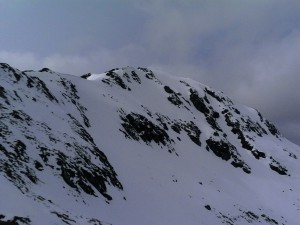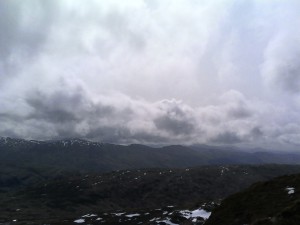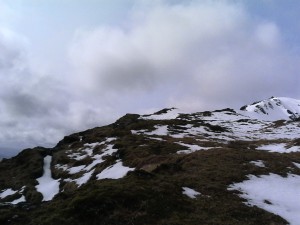 We went down by the Hydro track which was quicker than the ascent, but very very steep and hard on the feet.
Finally made it back to the car and nipped into the Loch Fyne Oyster Bar to buy some herb plants for the garden, and some sausages for R, who proceeded to ruin all the good work from the long walk by eating a large sausage sandwich followed by chocolate ice cream. All in all a great day, but now I need to force myself to get into the kitchen and make the soup for tomorrow.