Mar 25th, 2016
Author:
donich_admin
R and I climbed Cairnsmoor of Carnsphairn today. There is a traditional rhyme
There is Cairnsmore O Fleet
And Cairnsmore O Dee
And Cairnsmore O Carsphairn
The biggest of the three
Actually it is quite a big hill, taller than Beinn Bheula in fact at 797m, but (whisper this) it is a bit of a bore compared to the mountains around Lochgoilhead. The walk itself is a long trek along a farm track, followed by a lengthy ascent up a steepish and wet slope to the summit. The views are ok, but the countryside is rather flat, and at this time of year an unrelieved brown colour. It didn't help of course that today's promised good weather never turned up and it was cloudy with an unrelenting cold wind.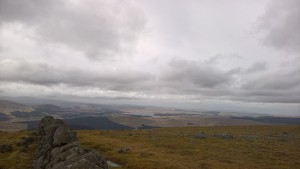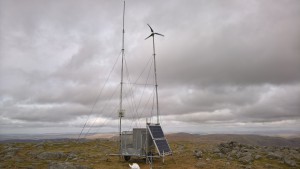 We got to the summit, saw there was what might be a community broadband mast up there, took a few photos and descended as quickly as possible to get out of the wind. Not our best walk ever….