Mar 20th, 2016
Author:
donich_admin
It turns out I made a slight error the other day when I said I had got to the summit of Beinn Lochain. It turns out that there are two summits, a secondary lower one and another behind it which is about 50m higher. I only made it to the first one and was deceived by the presence of the cairn into thinking it was the real top. Doesn't matter however, as today R and I did the full circuit, encompassing the true summit of Beinn Lochain and much much more. The reason I mention Cruachan, is that the circular route around a bowl shaped valley is rather reminiscent of the more famous route around the reservoir at Beinn Cruachan 'the Hollow Mountain' which R and I climbed last year.
We went up on the track behind the holiday village with great views over the loch to the left. At the edge of some forestry we climbed over a fence and ascended a steep slope, soon coming to another forestry road.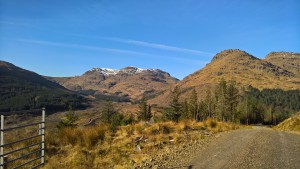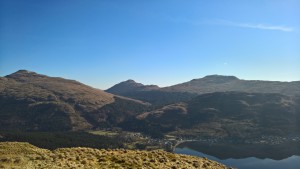 Crossing this, we were on the slopes of a nameless 'hump' (seems to be the rather pejorative name used for a highland hill not big enough to be a Graham) and carried straight on climbing up and up. Bearing slightly left, we were soon at the summit of our first Graham, Stob Na Boine Druim-Fhinn (Dropped Peak of the White Ridge). This mountain has a funny looking double peak, which from a distance looks like the mouthparts of a tick – so we have always called it "The Tick".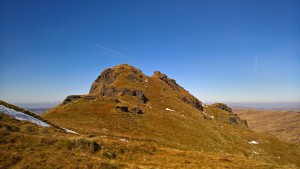 There was a trig point here and we sat and ate our sandwiches in glorious sunshine.
We then sadly had to drop more than 100 meters down to a bealach, and then immediately back up to Beinn Tharsuinn (Transverse Hill) which was a much more rounded and easy going hill. We were in our stride now and sore feet hadn't yet set in. From that peak we again dropped down and had to scramble back up the rocky slopes of Lochain where there was still quite a lot of snow. In one patch, I saw the unmistakable tracks of a haggis.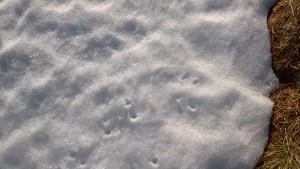 The views from the top here were just superb with the snow covered peaks of Breadalbane in the distance.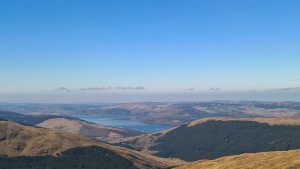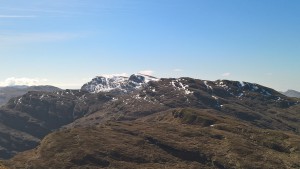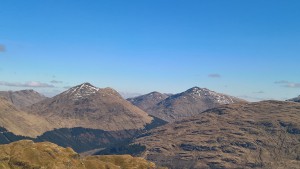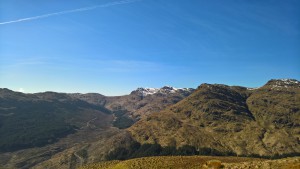 We carried on to the secondary summit which is where I had been on Thursday. We had a bit of fun at this point because try as we might we couldn't find the gully I had come up the first time. Probably foolishly I selected another gully which looked promising, only to discover it was a lot steeper than I had thought. Unfortunately by this time we were committed to it and we had a rather more exciting descent than we had been intending, culminating in a slide down a heathery bank which gave me a bit of a 'soggy bottom'. Looking back we had come down one of the more craggy areas, so I should definitely have spent more time looking for the right path. It seems that every time I go into the mountains I learn a new lesson about what not to do.
From there we crossed the stream near the waterfalls and made our way back along the Cowal Way to Lochgoilhead and home. Somewhat footsore and tired, but a fantastic day. We didn't see another soul on the hills all day – I bet the more popular Munros (and the Cobbler) will have been mobbed on a beautiful Sunday like today.