Jan 14th, 2016
Author:
donich_admin
This morning R and I left for our walk just as it was getting light. The snow was thick over the mountains and there was a single star (venus perhaps?) hanging just over Beinn Bheula. R took a photo, but it didn't come out well unfortunately. But later, I took several of the sun coming up over the mountains, and it was one of the prettiest sights I have seen (I know I keep saying that).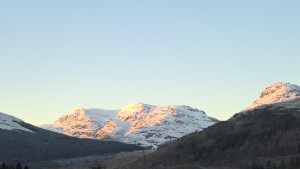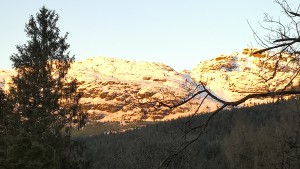 Later on this afternoon I was working at my desk and noticed that it was getting dark even though it was only 3:30pm. When I looked outside, the snow was swirling down and the sky quite white.
Now (9pm) I just went out to give the creatures their nightly bowl of peanuts, and there is snow on the ground but it has cleared again and there is a crescent moon hanging low amongst the frosty stars. What a place….