May 27th, 2017
Author:
donich_admin
My brother N is not fond of sweet things (well – he isn't now although until he was in his 20s his idea of a good breakfast was half a packet of chocolate digestives or 2 twirls) so when I went down to Mum and Dad's for his birthday, I made him a rather unusual "cake".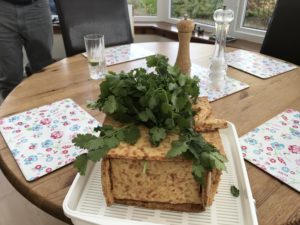 The box is made out of cheese biscuits, is filled with miniature cheeses and home-made crackers, and finished with a bunch of herbs.  It looked great, but unfortunately didn't taste so fine as the biscuits were a bit on the soggy side.  But it is the thought that counts.
We had a rather nice weekend.  We visited Dumfries House in Cummock on Friday, and then on Saturday saw the Grey Mare's Tail (which we found by mistake), Melrose Abbey, and then a rather nice donkey sanctuary.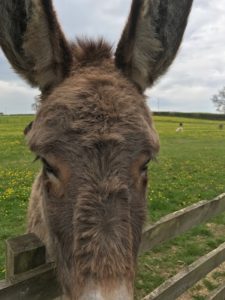 I even went home on the new Borders train line which was comfortable and scenic – what a nice change to see something new and good and useful built in this country.