Apr 22nd, 2017
Author:
donich_admin
Another nice day today and R and I climbed Beinn Vorlich from Loch Sloy.  We had had a go at this one during our staycation in 2015, but a combination of driving rain and high wind defeated us.  Today it was a bit windy, but quite fair.
There were some good views from the top, particularly of the islands to the south of Loch Lomond.  As ever though, it saddens me the mess hydro-electric schemes are allowed to make of the Scottish landscape.  I read somewhere that it would have cost 0.07% of the profits that electricity companies have made to bury all the lines instead of using pylons.
I also read that Loch Sloy was once known as the most beautiful loch in Scotland – it certainly isn't that now with a massive ugly dam across it.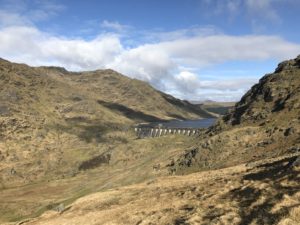 Beinn Vorlich was good though.  If the weather is ok tomorrow I might have a go at its companion mountain, Ben Vane, I fear not accompanied by R, however, who has had enough mountains for one week.