Aug 14th, 2016
Author:
donich_admin
This is not as rude as it sounds but refers to our walk this afternoon when we climbed "Cruach Nam Miseag" – rocky hill of the Nanny Goat. This is the one next to Beinn Bheula, and isn't high enough to rate even as a Graham. Nonetheless I have often thought it would make a good walk, with the only problem being how to cross the forestry which more or less surrounds its lower slopes.
Today, with it not pouring down for the first time in 10 days, we decided to try it, as R had an idea that a path which turns left off the Cowal way as you approach Bheula might actually take us straight up there. He was dead right (it had to happen one day…) and it made for a very pleasant walk of about 3.5 hours from the shop at Drimsynie where we left the land rover.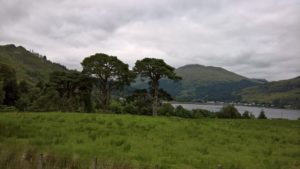 Leaving Lettermay there are three very fine Scots Pines I call the "Three Sisters"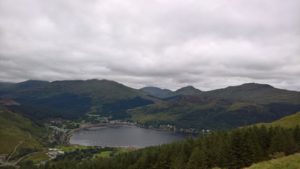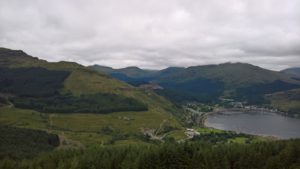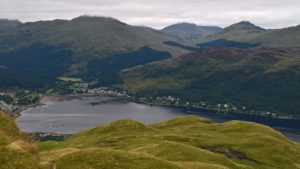 Good views of the Loch going up.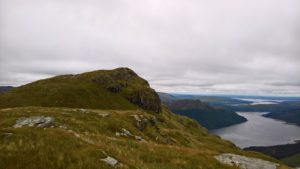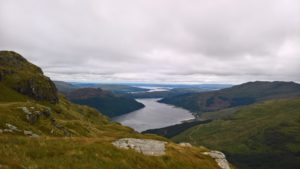 View from near the top – we are not convinced it is actually the summit although it is the highest point marked on the map because there is another peak nearby which looks higher. It would have been great to have pressed on and checked this out, but unfortunately we had to get back and move furniture (we are hopefully getting a new floor in our kitchen and hall tomorrow).
I will come back and do this on my own at more leisure – I would actually like to walk down from the peak of the Nanny Goat to Lochan nan Cnaimh (Loch of the Bone) and then possibly over Bheula to create a circular route.
On the way back we saw a huge buzzard which had left one of its feathers on the path.